Bird droppings and seagulls are proving to be a huge problem for solar panel owners in some parts of the UK. Clean Solar Solutions provide a professional bird protection, proofing and deterrent service for both residential and commercial solar arrays.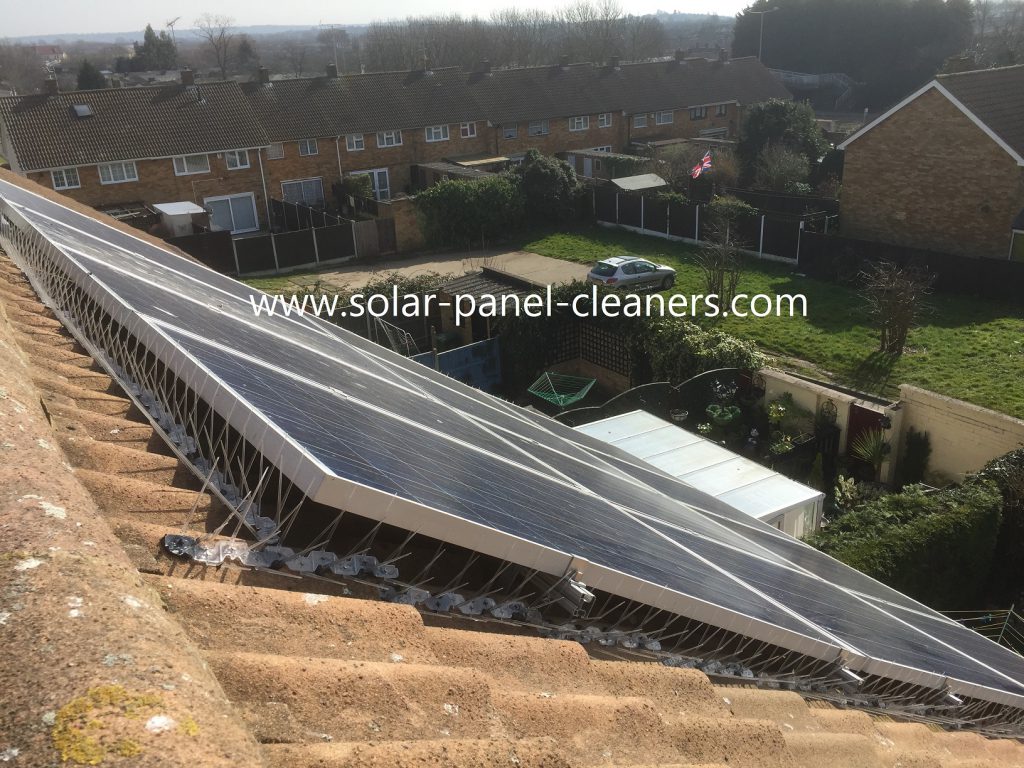 We fit a whole range of bird proofing, bird protection and bird deterrents alongside our solar panel cleaning service, which also removes the bird droppings from your solar panels.
"The bird spikes are doing the job very well thank you. The pigeons seem very confused!"
Mrs O' Brien – Residential client, Glasgow.
This picture is an example of what we tend to find on a commercial roof which has a seagull dropping problem.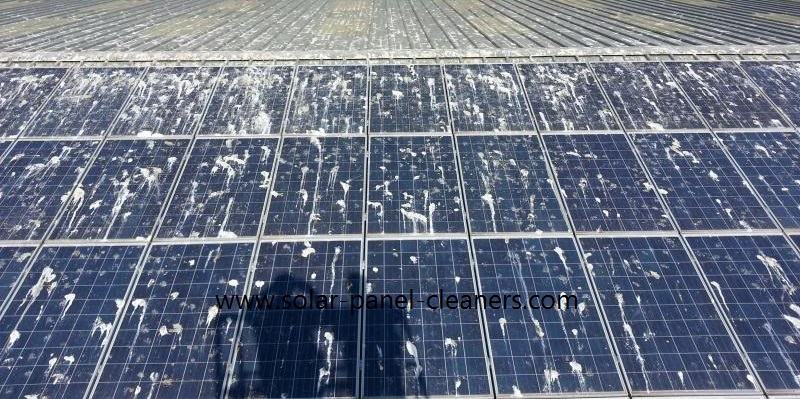 Preventing birds from landing near your solar panels is obviously the best way to stop them 'dropping' on your panels. We have a wide range of bird proofing and bird deterrent options available to do this including bird mesh, bird netting, bird wire, bird scarers, electric bird deterrents, bird spikes, falconry and optical bird gel. Seagull dropping are a particular problem on coastal solar arrays and we have a number of bird deterrents specifically for seagulls available.
Stopping bird droppings on your solar panels is very important. Bird droppings create what is termed 'hard shading' on solar panels. Hard shading is when a solid object or obstacle is placed over a solar panel, blocking the light in a clear, definable shape. It is different from 'soft shading' which is created from dust build-up, or an overhanging tree branch.
Hard shading is particularly damaging to the output of solar panels because it can cause the current cannot flow through the shaded area efficiently which makes it bunch up and flow through the unshaded part of the cell. This creates an extreme temperature increase, resulting in the dreaded 'hotspots' that are damaging to solar panels. Hotspots lower the power output of the whole panel. Partial shading of even one cell on a 36-cell solar panel will reduce its power output. Because all cells are connected in a series string, the weakest cell will bring the others down to its reduced power level. The best way to avoid power output drops is to avoid shading whenever possible. Here is a very useful in-depth article about the effects of hard shading if you would like a more detailed explanation.
This is why in some instances it is important to combine bird deterrents on your solar panels as well as solar panel cleaning. Clean Solar Solutions have been called in to clean solar panels where bird droppings have caused a whole array to drop its output by over 25%, solely because of seagull droppings. We have cleaned the solar panels which has restored the output.
If you would like more information about our seagull deterrents or if you have bird droppings on your solar panels that you would like to be cleaned, please feel free to contact us.