Clean Solar Solutions offer commerical and residential solar panel cleaning across Worksop, Nottinghamshire. We have just completed the solar panel cleaning of a ground and roof mounted array at a large distribution centre in Worksop.
Why Was Solar Panel Cleaning Needed?
The site owners have installed both wind and solar power on site. The solar panels were accumulating the usual line of silt and algae along the bottom edge, which will create shading, subsequent hotspotting and reduce the output of the system.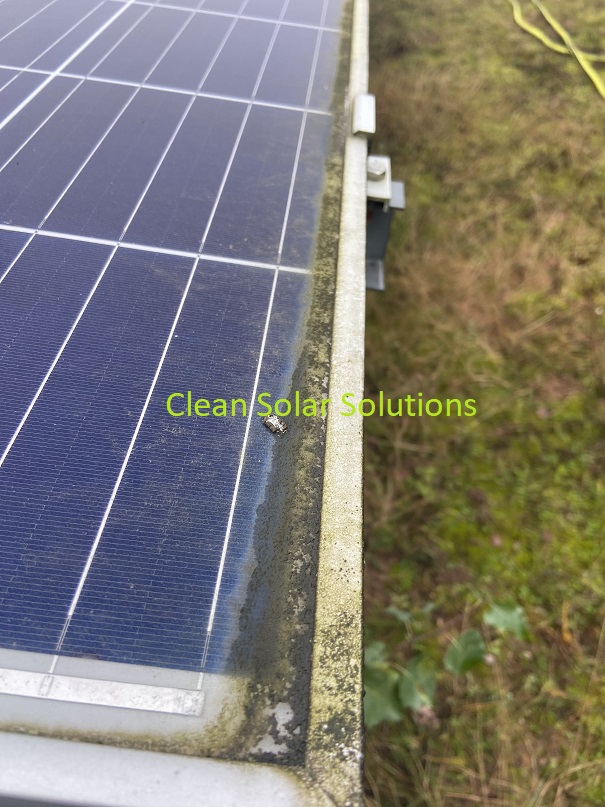 How Did We Clean The Solar Panels?
We set our large solar panel cleaning robot to work to clean the solar panels on this 330KW array. Robotic cleaning of solar panels leaves a high quality, uniform finish across the whole array when compared with manual cleaning.
The robot removed the silt, bird droppings and the film of traffic dust from the solar panels. This Worksop site has a lot of lorries pass through it. As a result, traffic film builds up more on the ground mounted solar panels than those on the roof. The solar panels were left clean and a through visual inspection was also carried out on the system.
In addition to the ground mounted solar panels, the distribution centre also has a sizable roof mounted solar array. The 452KW array is made up of 1,848 solar panels. These were suffering from a completely different type of soiling. Algae on the solar panels was not the problem, depsite only being 100 yards away from the ground mounted system. Rather, bird droppings was the issue on the roof mounted solar panels.
How Does Cleaning The Solar Panels Reduce Hotspotting?
As with the algae building up on the ground mounted solar panels, the bird droppings on the roof mounted solar panels will also be reducing output. The difference is that the hotspots from the bird droppings will be hotspotting virtually all of the cells on all panels. Hotspots can be more damaging to the overall long-term health of the solar panels when compared with a single area of shading from the algae on the ground mount panels.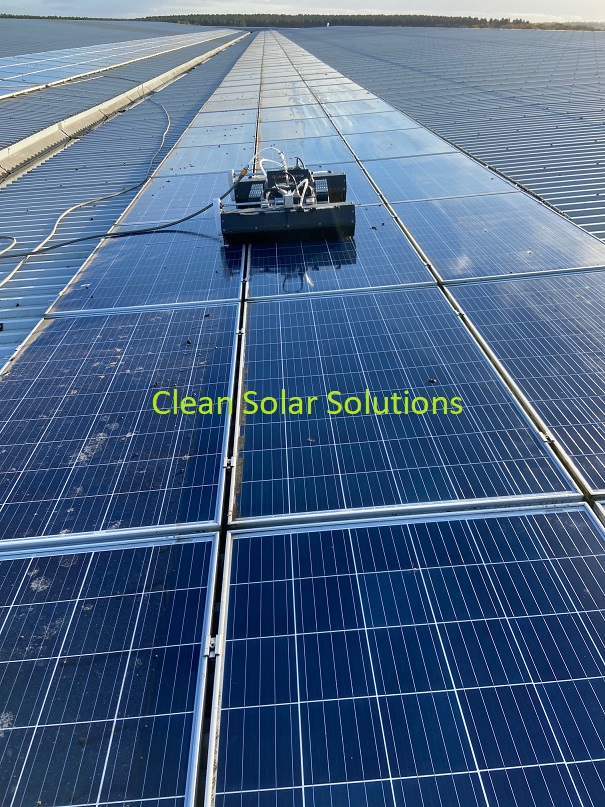 Clean Solar Solutions own cleaning robots of different sizes. Due to a narrow access hatch to the roof , we deployed our smaller solar panel cleaning robot. The small robot still provides an excellent quality of cleaning despite having a narrower width. The only tap we had available was hundereds of metres away from the furthest solar panels. We have the equipment needed to pump the water a long way and keep sufficient pressure for the robotic cleaning.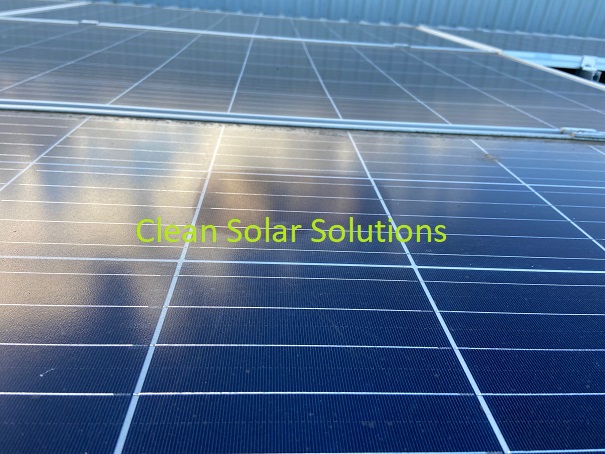 What Is The End Result Of The Solar Panel Cleaning?
With the bird droppings removed from the solar panels, the hotspotting will be reduced. As a result, the output of the solar panels will be increased.
If you are in Worksop or the surrounding area and require solar panel cleaning or maintenance, please contact us.