Clean Solar Solutions carry out solar panel cleaning in Gloucester and surrounding areas. We have kept another solar-owning homeowner happy by removing lichen from their solar panels. We also cleaned the solar panels on their home in Hempsted, Gloucester.  
Why Was Solar Panel Cleaning Needed?
Mr & Mrs Lomax own a property in a very picturesque setting It backs on to the River Severn and has woodlands to the side and front of their property.  Whilst this is very pretty, it does create and environment where lichen can thrive.  A previous lack of regular cleaning caused a lichen bloom across their array. The lichen is impossible to remove with standard solar panel cleaning techniques.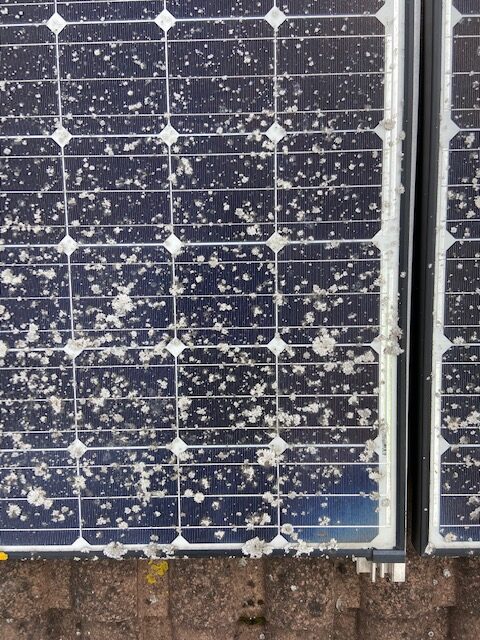 On our initial site survey, we found that there were cabling issues with the array also.  
SEE ALSO: Top 5 Reasons Why You Window Cleaner Should Not Clean Your Solar Panels
What Issues Did We Face?
We usually build tower scaffolding or take our cherry picker to complete these works. However, access to the front of the property was extremely tight, so full scaffolding was erected.
The Clean Solar Solutions team set about chemically cleaning the solar panels We removed the lichen with an agent approved by solar panel manufacturers for this purpose.  No warranty was invalidated.  DC cabling and MC4 connector issues were also rectified.  The result on this beautiful Gloucester property were immaculate solar panels and a fully functional system.  
See Also: Steve Williams scoops 'U.K. Solar Industry Innovator of the Year' award
What did the Client Say About Our Solar Panel Cleaning Service?
Gloucester resident Mr Lomax comments "We are very pleased with the services provided by Clean Solar Solutions (CSS).  Our PV system was installed in June 2011 and the solar panels had never been professionally cleaned.   The panels became infested with lichen, resulting in a drop in system performance of approximately 20% last year.  We engaged CSS to overhaul our system.  The team worked effectively, efficiently and safely.  Our solar panels now look like new. We look forward to an improved system performance, with annual cleaning from CSS to maintain this performance.  Thanks to all at CSS!"
Jake Stewart, CSS Field Lead comments "Firstly, the biggest challenge on this site was access.  We had to figure out how to safely access them. Secondly, the lichen was particularly bad. We had to remove this without scratching or damaging the panels. Thirdly, there were cabling issues that were affecting the output of the system. Therefore, we had to rectify the cabling issues to bring the system back to 100% performance.  There are lots of window cleaning companies trying to figure out how we remove lichen without scratching the glass. It's part of the CSS magic!  It has been a pleasure to enjoy the views of Gloucester. We look forward to maintaining the solar panels for the very hospitable Mr & Mrs Lomax for years to come."
If you need solar panel cleaning or maintenance in Gloucester, please contact us.