Clean Solar Solutions carry out solar maintenance and solar panel cleaning in Redditch. Here we showcase the cleaning of over 1,000 solar panels at Redditch storage facility, Oakland International. The warehousing and food distribution specialist has the goal of becoming a fully carbon-neutral company. Therefore, they have installed over 300KW of solar panels to their roofs.
SEE ALSO: What Can I Do If My Solar Installer Goes Out Of Business?
Oaklands International are using a mix of renewable energy sources to achieve their goal. They include a sustainable reed bed sewage system and a biomass food digester. Their solar panels though are a leap in the right direction when it comes to reducing their energy bills.  By keeping their solar panels clean, they will increase their output and reduce their bills further.  The cost of the cleaning is minimal compared to the financial increase from the boost in output.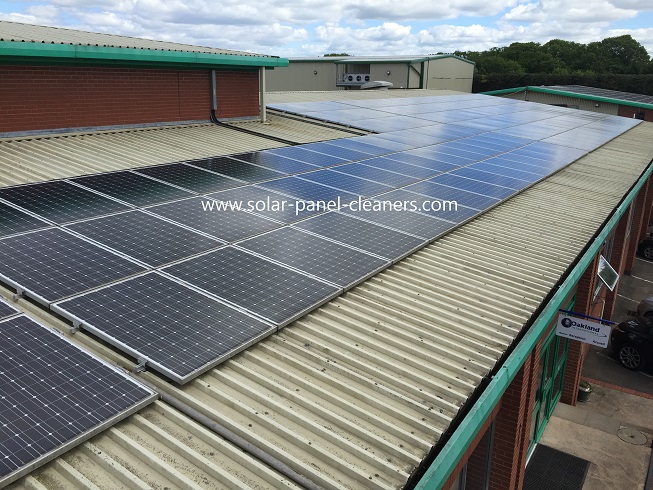 Clean Solar Solutions will be carrying out 6-monthly cleaning of the solar panels due to the layer of traffic film that accumulates on the solar panels. This is an accelerated process due to the shallow angle of the solar panels.
We look forward to helping this forward-thinking Redditch based company make the most from their solar panels for years to come.
If you are in Redditch or a surrounding area and would like a free quote for your solar panel cleaning, please feel free to contact us.