Clean Solar Solutions cary out solar maintenance and solar panel cleaning in Royston. Here we showcase cleaning of solar panels on one of the biggest grain stores in the UK.  Hatchpen Farm in Royston is run by the Rand Brothers. They have invested in over 2,500 solar panels across their buildings.
Why Was Cleaning Needed?
The Rand Brothers recognised that their panels were getting dusty and output was dropping noticeably.  They contacted us and we deployed a team to clean the solar panels.  Using a large lorry mounted cherry picker, we cleaned the solar panels safely and efficiently.
SEE ALSO: What Can I Do If My Solar Installer Goes Out Of Business?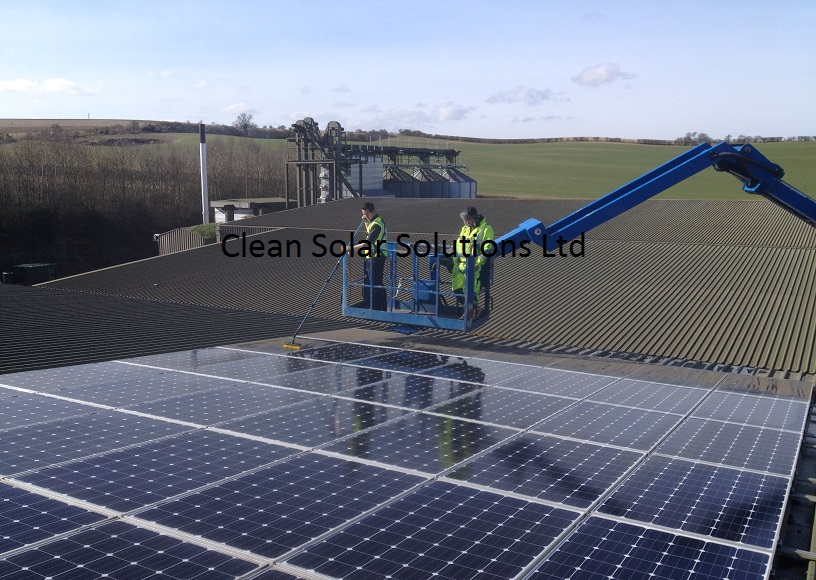 By using a variety of solar panel cleaning tools, we were able to provide a clear difference in both the appearance and output of the solar panels. The front solar panels on the picture below were very obviously still to be cleaned.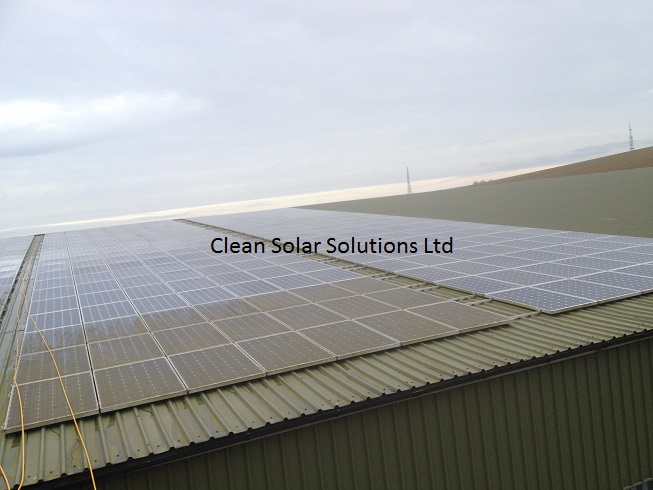 Dust is not the only issue on these solar panels.  There is also a sizeable bird population who rest on the solar panels and create a mess.
Due to the scale of the cleaning needed for this site, the site owners need to think long term regarding their O&M costs.  The solar panels had not been cleaned since their install, but we have recommended a six-monthly cleaning regime. This will ensure the solar panels are producing well all year round and help the array owners see their ROI sooner.  
How Clean Solar Solutions Fit The Needs Of Our Clients
We can synchronise the cleaning of the solar panels with the moving of the grain.  When the grain is moved, there are huge dust plumes which then settle on the solar panels. Within a 24 hour period, there can be a noticable drop in output.  By liaising with the farm owners, we can be on site very soon after the grain has been moved, clean the solar panels and quickly restore the output of the solar array.  Losses of output and money will therefore be kept to a minimum.  We look forward to providing our solar panel cleaning service on this Royston farm.
Having a preventative O&M regime is fast becoming recognised by the solar industry as an essential for solar panel owners. Many solar installers are now offering O&M packages to their clients and we are happy to partner with them to provide cleaning and bird proofing solutions.
If you own solar panels privately, regular maintenance of your solar panels will see them run efficiently for years to come. If you live in Royston or surrounding areas in Hertfordshire and would like more information about solar panel cleaning, please contact us.