We carry out award winning solar maintenance and solar panel cleaning in Bristol. For instance, in this article we show how have successfully completed the cleaning of over 5,500 solar panels on a Bristol rooftop. The 1.69MW solar array is on the roof of Amcor Flexibles, near Stoke Gifford.
Amcor Flexibles are a global leader in developing and producing responsible packaging for food, beverage, pharmaceutical and other products. With over 250 sites globally, they know the example they can set for other companies with renewable energy. They have a strong sustainability ethos. This is reflected in many ways, not least by their wholehearted approach to the embracing of solar technology.
Why Did These Solar Panels In Bristol Need Cleaning?
Nearly every available square foot of space on the roof is covered by solar panels. The bold system design, however, presents a challenge for the cleaning of the solar panels. For instance, there is very limited space to walk around the roof if manual cleaning was to be considered.  
How Were The Solar Panels Cleaned Safely?
Wisely, the solar installers fitted some solar panels which are reinforced and clearly marked. This creates a pathway for navigating your way around the roof. However, the pathway of reinforced solar panels does not allow for safe manual cleaning of all solar panels. It did, however, provide us with ample room to control our solar panel cleaning robot safely. The solar panel cleaning could be completed whilst our staff were attached to the installed mansafe system.
The mansafe system and ability to remotely control the robot means that the safety of our staff is maximised at all times.
SEE ALSO: EnergyBit Commercial PV Monitoring Partnership Launched
The detritus build-up on site is quite unique. There was a black covering on the solar panels. However, one half of the roof was particularly bad, where extractor fans blow out air from inside the facility. However, the solar panel cleaning robot was able to remove all of this efficiently.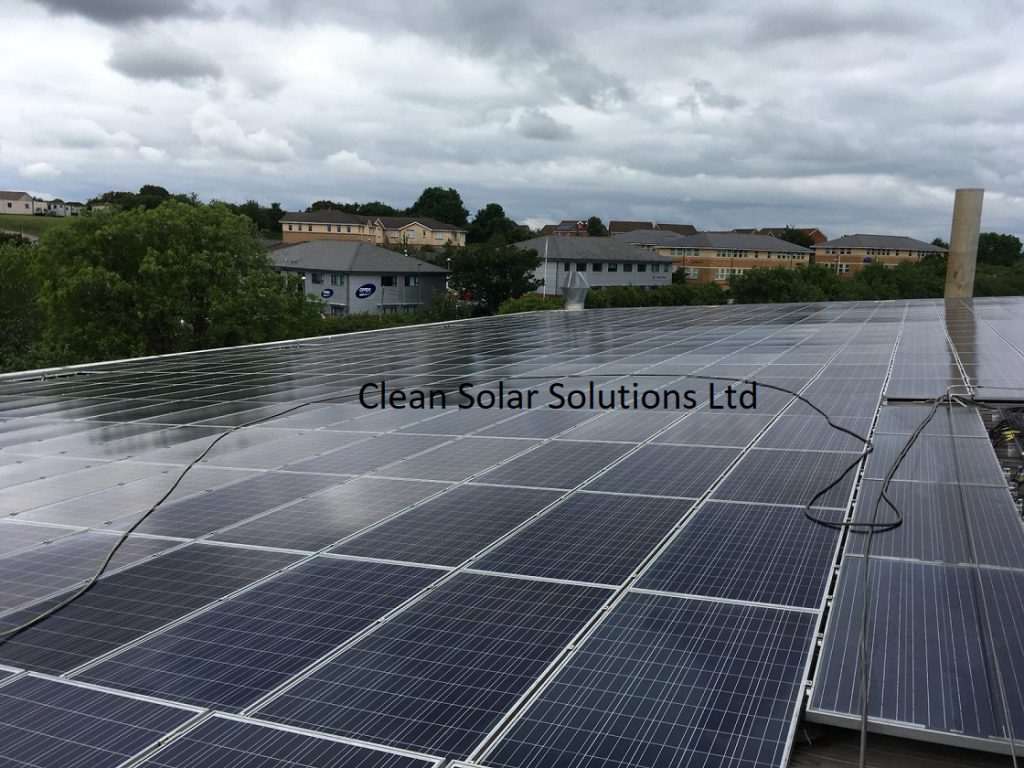 Due to the type of dirt build-up, a bespoke solar panel cleaning schedule has been recommended to the client.
If you are located in Bristol and require a quote for solar panel cleaning or other solar maintenance, please contact us.