Clean Solar Solutions carry out solar panel cleaning in Chiswick, West London. In this article we discuss the cleaning of 210 solar panels mounted on top of a Big Yellow Self-Storage facility. In addition, we explain why solar panel cleaning is important and how we clean solar panels.
What Are Our Safety Measures When Cleaning Solar Panels?
When working on high buildings such as these, safety is obviously of paramount importance. The solar panels are mounted high up in the Chiswick skyline and safety measures were in place. Our highly-trained staff donned appropriate harnesses and lanyards and the usual hi-viz vests. We were able to carry out the cleaning safely and to a high standard.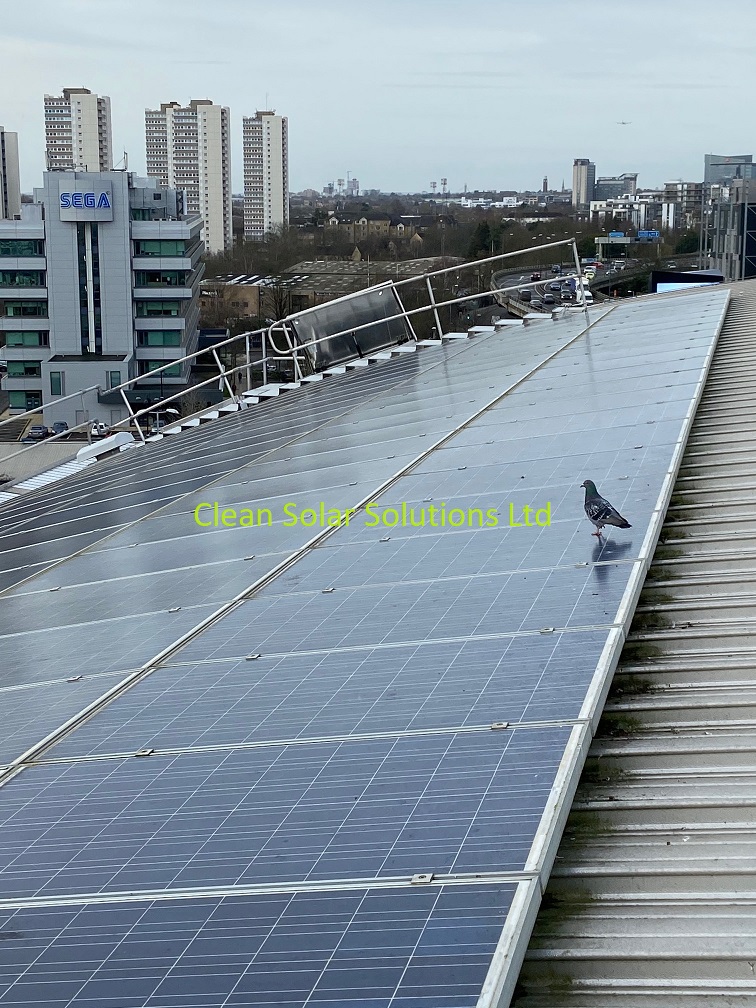 Why Did These Chiswick Solar Panels Need Cleaning?
There are many reasons why solar panel need cleaning. In this instance, the Chiswick pigeon population had been doing their thing on the solar panels! The usual levels of bird droppings were found on the solar panels. Bird droppings need to be removed from solar panels because they cause shading and hotspotting. Hotspots can cause permanent damage to the solar panels, so it is important that they are removed.
We used ultra-pure water to clean the solar panels, leaving a spot and streak-free finish.
It was noticed that a yellow lichen had also started to form on some of the solar panel frames. Lichen is a sign that the solar panels need cleaning. Lichen only grows on solar panels in the U.K. when green algae is present. Algae grows at a microscopic level, but when lichen starts to grow, it really blooms. Lichen is notoriously difficult to remove from solar panels, so keeping algae levels down and lichen at bay is very important.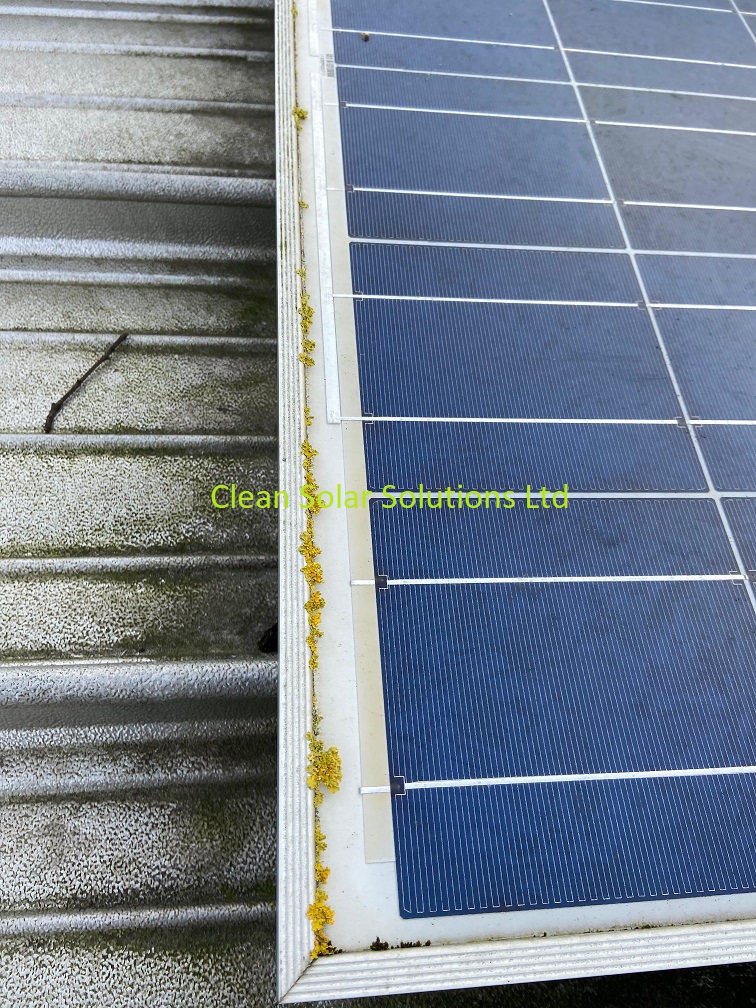 Was The Client Happy With The Standard Of Our Solar Panel Cleaning?
Big Yellow showed how happy they were with the solar panel clenaing by entering into a 5-year cleaning contract with us for cleaning their whole solar portfolio. For years to come they will enjoy the security of a high standard of solar panel cleaning & reporting. As a result, they will have peace of mind that their solar portfolio is performing well for years to come.
If you are in Chiswick and require a quote for solar panel cleaning or maintenance, please feel free to contact us.