We carry out solar maintenance and solar panel cleaning in Coventry. For example, here we discuss the cleaning of 367 roof mounted solar panels on Currys PC World on the Airport Retail Park.
Why Were We Contracted For The Solar Panel Cleaning?
The site is managed by renewable asset management company Syzygy Consulting. Syzygy manage large portfolio of rooftop solar assets. It is their job to monitor the performance of the assets and act when they underperform. For instance, it was noted here that the performance of the array had dropped. Therefore, Syzygy sent out their solar engineer who carried out a service of the array. A few faults were noted. Firstly, there were a few cabling issues. Secondly, the panels were getting dirty from a build-up of traffic film.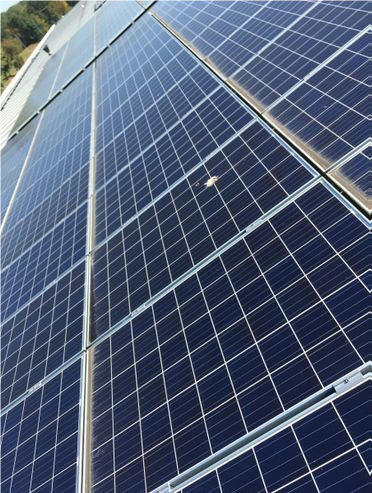 What Effect Would The Soiling Have On The Solar Panels?
Soiling along the bottom edge of each panel will reduce the output of the array. It creates shading on solar panels, causing them to overheat. Therefore, cleaning the solar panels was advised. Cleaning reduces the overheating on the solar panels and improves performance. It reduces the risk of permanent damage to the solar panels. 
The warranty of the solar panels is in jeopardy if they are not cleaned regularly. Making a successful warranty claim can be difficult. Proof is needed that you have cleaned and maintained your system regularly.
SEE ALSO: Solar Panel Cleaning On Twickenham Storage Facility
As a result of high quality maintenance, the owners of this Coventry-based system have no such worries. With the combined efforts of Clean Solar Solutions and Syzygy the system will perform well..
If you are based in the Coventry area and need of commercial or residential solar panel cleaning, please contact us.