Clean Solar Solutions carry out solar panel cleaning in Belgium. Here we showcase our cleaning Belgium's largest solar array, known as the Sun Mountain. 
The unique 15MW array is owned by NV Terranova. It is located on the border of the Belgian municipalities of Zelzate at Evergem, north of Ghent.  Keep scrolling for the video footage!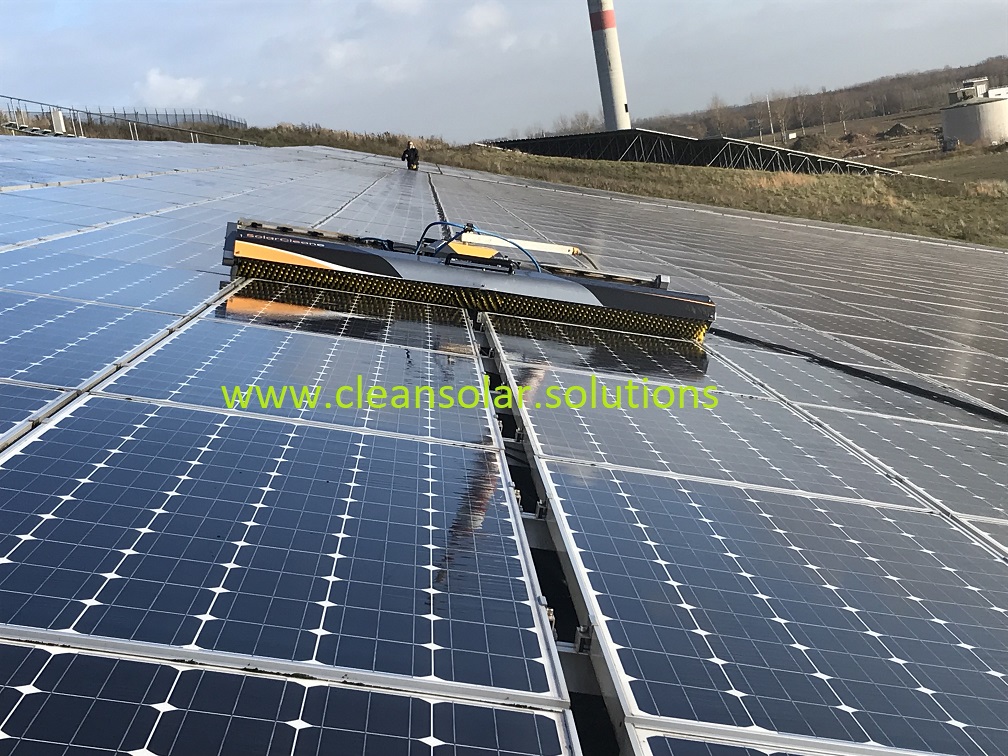 Sun Mountain Facts
The 'Sun Mountain' installation is aptly named. Why? Firstly, the array consists of 55,000 solar panels covering an area of 20 ha (49 acres). Secondly, it is the largest solar park in the Benelux region. Thirdly, it was built in one of the most polluted parts of Belgium, on one of the Kuhlmann sites. Finally, its capacity is sufficient to supply 4,000 households a year with green electricity.  The site really does look like a solar 'mountain' due to panels being mounted on 3 sides of a huge grass bank.  From ground level, the solar panels seem to go all the way up to the clouds! 
The solar array has been built on a former gypsum deposit. It was rewarded with the highest favour of the jury of Intersolar Europe in 2014. It was praised for being many-sided and part of the large remediation of the entire gypsum deposit in the harbour area. The project 'Terranova Solar', co-developed and co-owned by Envisan and Jan De Nul NV, won an international prize on the prestigious exhibition Intersolar at München, Germany in 2014.
SEE ALSO: Solar Panel Cleaning On Lichfield's Largest Rooftop Solar Array
How Was The Project Funded?
The Terranova Solar consortium, which includes Belgium's premier dredging companies Deme and Jan De Nul, offered local residents the opportunity to invest in the project via the Zonneberg cooperative. Interested individuals participated with amounts ranging from EUR 100 to EUR 2,500.
Although the solar array is mainly located on the sloped banks of the gypsum dump and is ground mounted, the array design is more like that of a rooftop system. The solar array is uniquely designed. It has panels laid out in blocks of 27 x 34 panels in landscape and an 18-degree pitch. This means that manual solar panel cleaning is not able to provide a quality clean at the distances required. Tractor cleaning can not even considered to be an option for this kind of array layout either.
How Do We Clean Something Like This?!
Robotic solar panel cleaning was the only way of physically accessing the centremost panels. It would provide a high-quality finish, even on these hard-to-reach areas.
Robotic cleaning was the recognised form of solar panel cleaning needed. But this was attempted previously with a different design robot to ours and was unsuccessful. Clean Solar Solutions were called into Belgium to test the cleaning capabilities of our solar panel cleaning robot. Thankfully, the test clean was a success. We were subsequently contracted to clean the rest of the solar panels.
Each morning as we approached the site in our van, we could clearly see from half a mile away which sections of the array had been cleaned. The difference was stark. We are very confident that a sizeable increase in output will be seen due to the cleaning. As a result, the next clean has already been booked for May 2019, perfect for the high generation season. 
The first solar panel clean completed on this unique array in East Flanders was a logistical challenge in regard to physically devising a safe workable method of cleaning. Both the solar panel cleaning robot and our office and field-based Clean Solar Solutionists faced the challenge head-on.
Shining As Solar Panel Cleaning Pioneers!
In conclusion, Clean Solar Solutions proved yet again, that we are up to tackling everything. We clean not just the toughest solar arrays in the UK, but also in rural Belgium. As a pioneering company, we look to continue our global growth journey. Our solar panel cleaning expansion into Belgium is a further sign of the progress we continue to make. Therefore, no matter what country you reside in, keep your eyes peeled. Clean Solar Solutions could soon be cleaning solar panels near you!
If you are located in Belgium and require a quotation for solar panel cleaning, bird proofing or electrical maintenance, please contact us.