Solar Panel Cleaning
Bournemouth
We provide professional large scale solar panel cleaning in Bournemouth and surrounding areas. 
Bournemouth has one of the highest concentrations of solar panels per square mile in the UK
Solar Panel Cleaning & Servicing Bournemouth
Clean Solar Solutions carry out commercial and residential solar panel cleaning and maintenance across Bournemouth.
Residential Solar Panel Cleaning, Servicing & Bird Proofing Bournemouth
Please click below for more information and pricing in the Bournemouth area for our residential solar maintenance and cleaning services with 20 panels or less:
If you need a combination of the above services or have more than 20 panels mounted on your home, please fill in our Contact Us Form to find out our discounted prices. 
In certain instances, solar panels are difficult to access.  We have our own cherry picker and scaffolding so we can provide access issues at a cheaper cost than other companies who need to hire this equipment in order to clean your solar panels.
Commercial Solar Panel Cleaning Bournemouth
We carry out commercial solar panel cleaning in Bournemouth on ground-mounted solar parks and solar farms of all sizes, including multi-MW and also on a number of different types of buildings. We can clean solar panels on factory and office roofs, public buildings and farm buildings. We have an IPAF licence which allows us to hire and use cherry pickers and scissorlifts safely.
We carry our a lot of solar panel cleaning on farm buildings.  On farms, we can also use telehandlers to access solar panels mounted on farm roofs, saving you money on machine hire.
We often do not need to walk on your roof to clean your solar panels. We clean solar panels on houses from ground level using our specialist equipment.
Due to the sheer amount of solar panels installed, this has created a great demand for solar panel cleaning in Bournemouth and it's surrounding areas.  Bournemouth Airport has seen the benefits of solar panels and in 2011, installed a 75KW solar array as part of its successful plan to become carbon-neutral.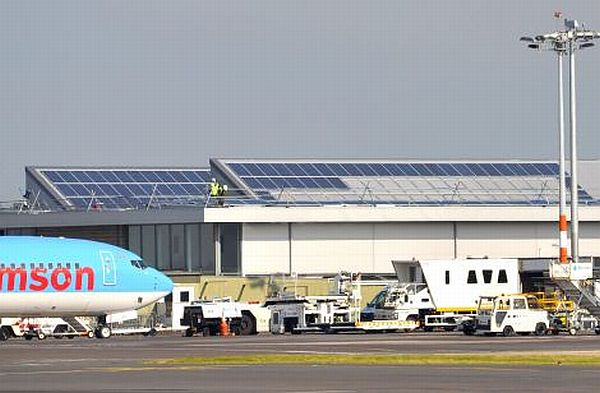 We are fully equipped to deal with all aspects of solar panel cleaning in Bournemouth for both commercial multi-MW ground mounted arrays and all the way down to residential rooftop arrays. We carry out a lot of solar panel cleaning on dairy and poultry farms, areas where dust is a big issue for inhibiting solar output. A layer of dust can severely curtail the amount of electricity your array can produce. It pays therefore for you to have your solar panels regularly cleaned. 
Another factor which can reduce your electricity generation is salt. Because Bournemouth is a coastal city, the salt blown in on the sea air settles on the solar panels. If left, this not only reduces your electricity output, but can have a corrosive effect on your solar panels. 
If you would like a free quote for your solar panel cleaning in Bournemouth or surrounding areas, please contact us.